TestoGen review – Is This Testosterone Booster for You?
In the sea of different ingredients and complex chemical formulas, it's hard to pick the perfect supplement for you. The goal is, however, always the same – build a lean and muscular body, increase stamina, and stay healthy.
Exercising, in theory, sounds so simple, but we know it's a completely different dimension in practice. And when you include proteins, vitamins, pre-workouts, testosterone boosters, and other supplements to the formula, it gets even more confusing.
That's why we created an in-depth TestoGen review – to see what is this supplement about, is it worth the money and to answer your question:
"Is TestoGen a testosterone booster for me?"
Scroll down to see an honest TestoGen review written in simple words so you don't need to be a chemist to understand.
TestoGen is a completely natural dietary supplement that helps your body to increase testosterone levels.
Unlike testosterone replacement therapy and anabolic steroids, you are not intaking testosterone directly. TestoGen combines 11 ingredients that naturally increase the production of testosterone.
In case you forgot, let's see what happens to your body when testosterone goes up:
Muscles are building, fat is burning
Studies showed that testosterone is one of the most important factors in building muscle mass. Also, during testosterone treatment, many people reported a decrease in body fat.
Energy is higher – workouts are longer and more effective
Testosterone is in a direct connection with energy levels. Higher testosterone means more energy and motivation for workouts. Exercising gets more effective and you need less time to rest between the sets.
This is the widely famous benefit of testosterone. Sex life is improved with the libido of a teenager. The same study from the first fact showed better sexual health and performance in patients on testosterone therapy.
Improved focus and concentration
Higher testosterone levels are linked with a better quality of life, where people reported better focus and concentration during regular, everyday activities.
There is a huge number of benefits behind testosterone and that is the reason why people are spending thousands of dollars on different therapies (although there are side effects). Therefore, a product that can boost testosterone naturally could be a game-changer in the industry.
TestoGen ingredients and how do they work
The true secret behind TestoGen doesn't lie in the 11 individual ingredients, but the right combination and dosage. Most of the ingredients are complimentary with one another, multiplying each other's effects, resulting in a powerful male formula.
Breakdown of the ingredients:
Korean Red Ginseng Extract
Ginseng is a well-known aphrodisiac found in many male supplements on the market. This "man root" is responsible for improved libido, stronger erections, and protection of testes from dioxins.There are studies linking ginseng with higher sex drives, more frequent and harder erections.
Fenugreek Extract
Fenugreek is a potent ingredient that helps increase strength, stamina, and libido. Fenugreek is also an anti-estrogen agent, and since estrogen is reduced, testosterone is increased. This one takes most of the credits for TestoGen's efficiency.
Nettle Leaf Extract
You may have a childhood trauma because of the stinging nettle, yet it does wonders for a man. Inside the body, nettle leaf sticks to SHBG (sex hormone binding globulin) resulting in more testosterone pumping through your veins, doing wonders for muscles, fat loss, stamina, and libido.Originally SHBG is supposed to bind testosterone (and other sex hormones) to itself, so in this case, nettle replaces it and your body is left with extra testosterone.
D-Aspartic Acid
DAA is not such a popular ingredient, yet it's more than powerful. Studies in humans and rats showed that DAA helps produce the luteinizing hormone, releasing more testosterone inside the body.The sperm count doubled to 16.5 million sperm per ml in participants of the study who used D-Aspartic Acid, so don't be surprised when those male hormones kick in.
Boron
Similar to fenugreek, boron is found to increase testosterone and reduce estrogen. One study showed that after 7 days of boron supplementation, free testosterone inside of the male body were increased by 28.2%.
ZMA – Zinc, Magnesium and Vitamin B6
A study conducted on Western Washington University reported that after 8 weeks, football players who were given ZMA increased total testosterone by 32.44%.Even separately, these three are used for more than 100 other benefits for your body.
Vitamin D
Experts claim that every man who is lacking testosterone, is also lacking vitamin D. Because of this, a study was conducted to see if it goes vice-versa. They divided 65 people into two groups, and the group that was getting vitamin D, and not the placebo, had their testosterone increased by 25% compared to the average value.
Vitamin K1
Although vitamin K1 doesn't have an individual role in the formula, it is a binding agent for vitamin D. It helps the absorption of vitamin D, so the benefits of it are maxed out.
Bioperine
A similar principle to vitamin K1, Bioperine works as a binding agent, helping your body absorb all these hunky ingredients. To be precise, Bioperine will help you absorb 2.5x more ingredients from TestoGen than you would without it.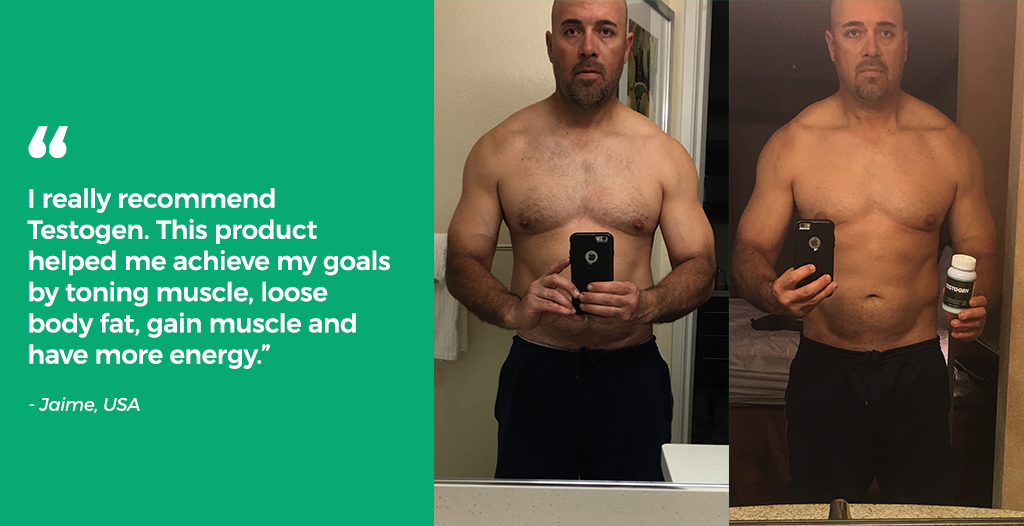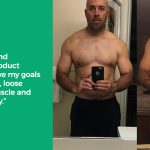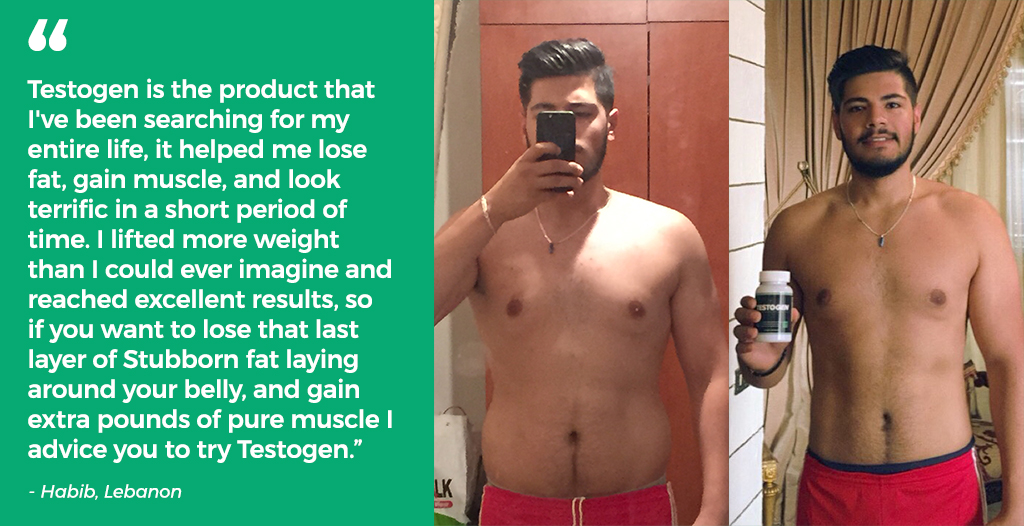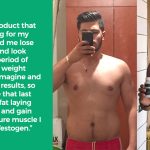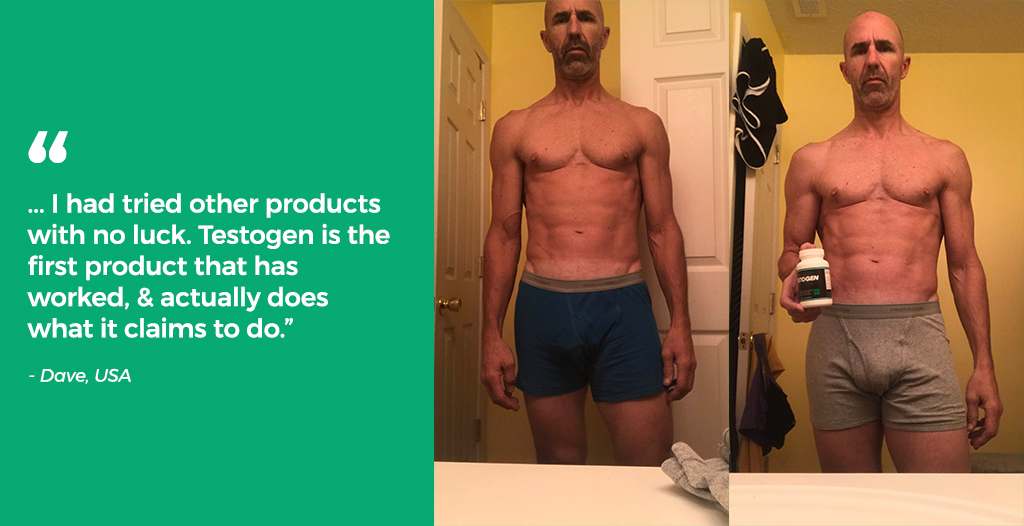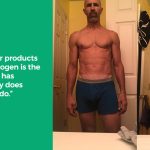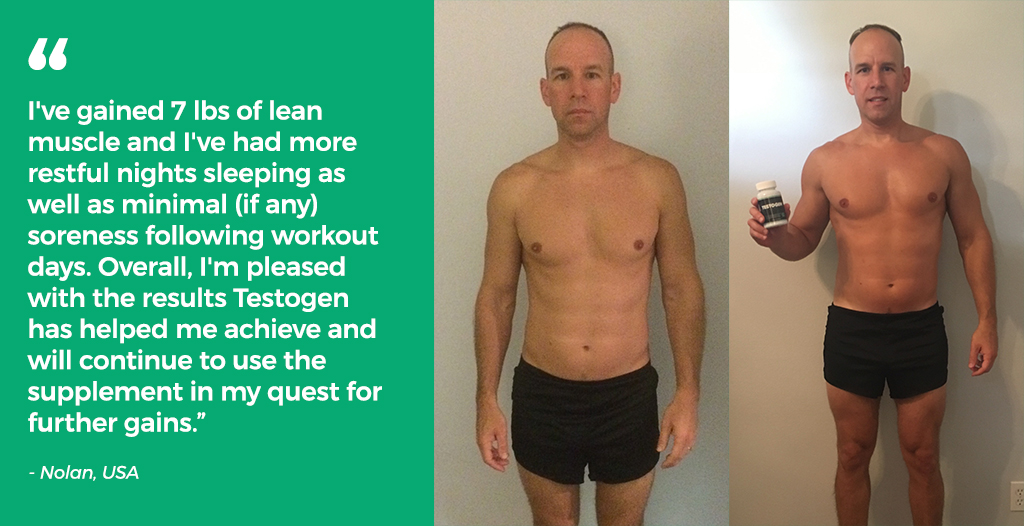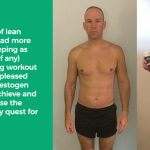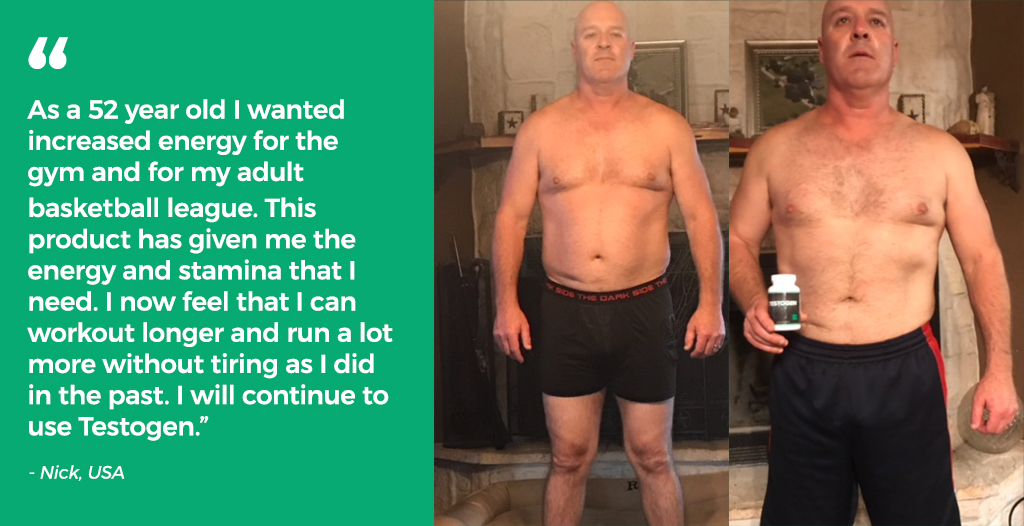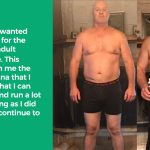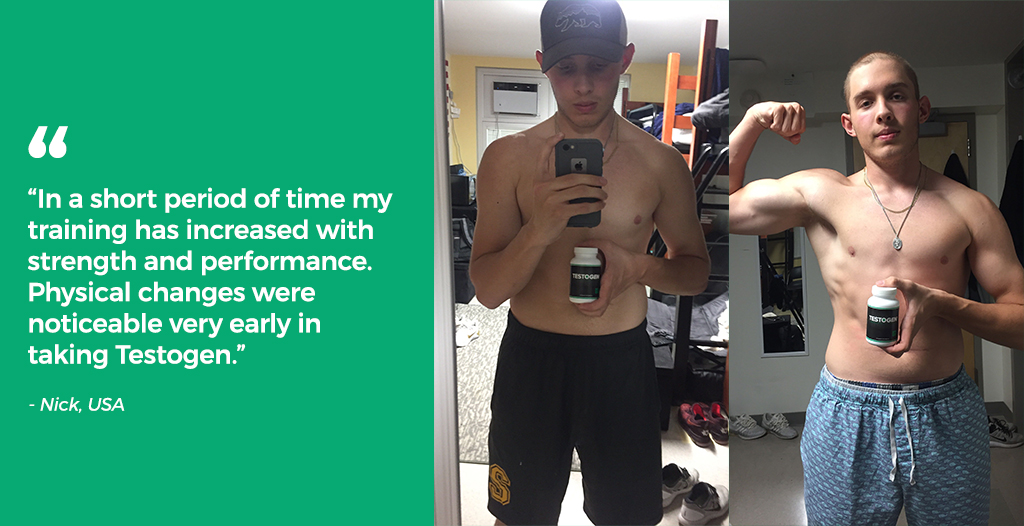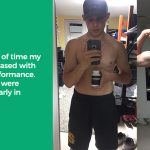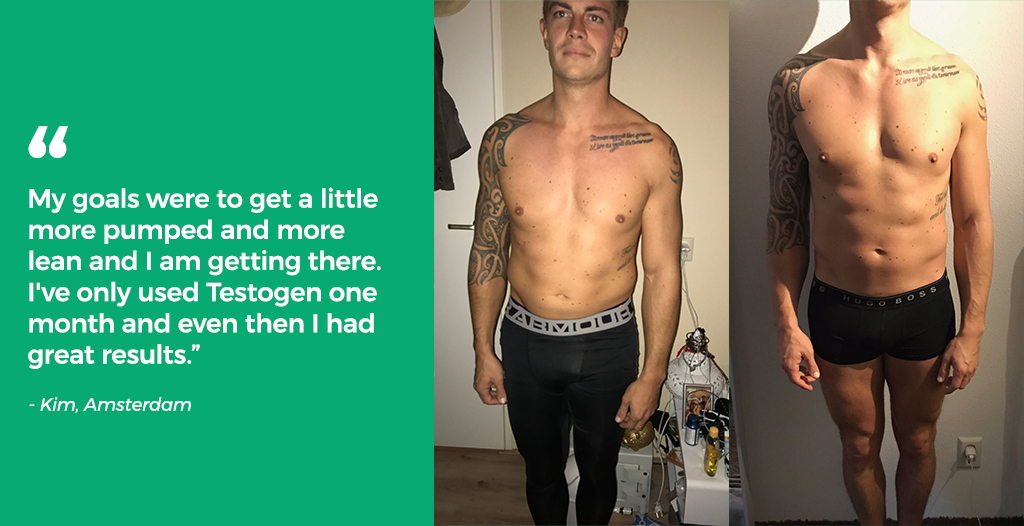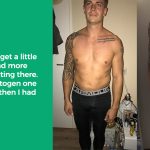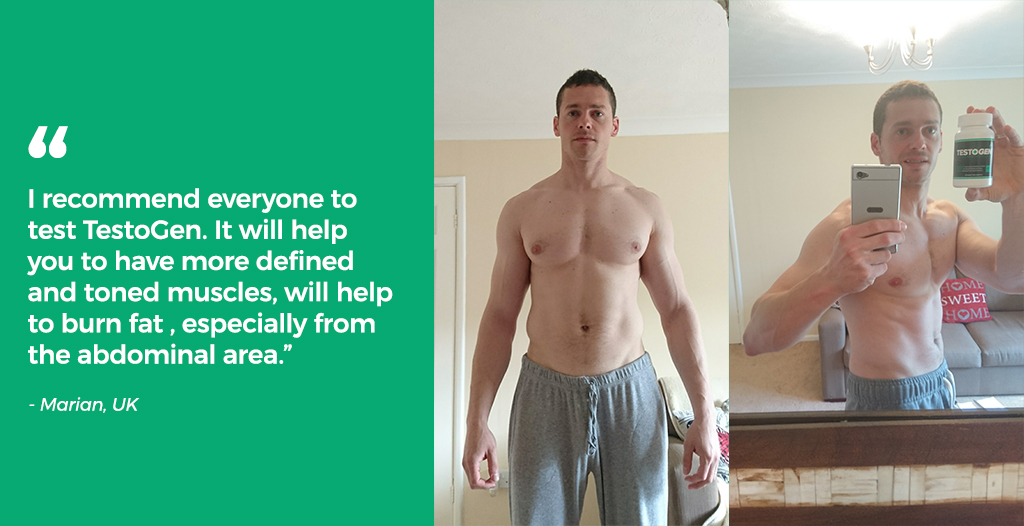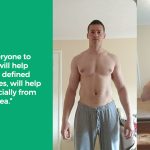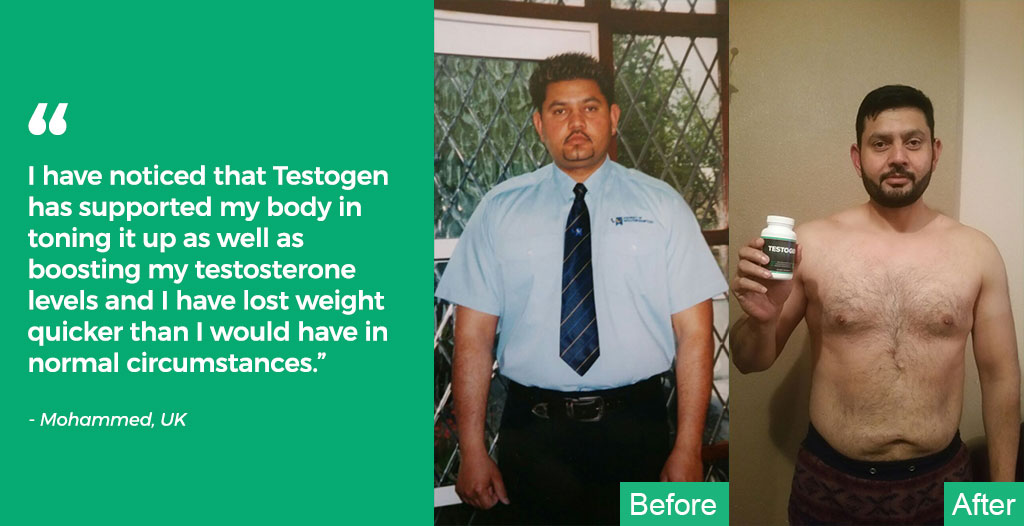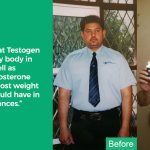 TestoGen is a testosterone booster supplement targeting men who are not in their 20s anymore but would like to improve their muscle growth, energy, and sex life.
Since TestoGen is a 100% natural product, it is perfect for all of you who live a healthy lifestyle.
Levels of testosterone in the 50s are around half of what you had in 20s and that's completely normal. This is the reason why you are not seeing the same progress as before.
Besides the potentially harmful and way more expensive testosterone injection therapy, scientists found out how to boost and improve it naturally.
Although every body is functioning differently, there are many positive TestoGen reviews from customers all over the internet. You can check them out, but the best way out there is to try it yourself – you don't have much to lose.
TestoGen is giving a 100-day money-back guarantee, so if you're not satisfied with the product at the end, you could return the remaining packages and get your money back. The shipping is free worldwide, so this isn't the issue either.
Is TestoGen safe? Side effects of TestoGen
As mentioned before, TestoGen is a completely natural product that boosts testosterone production inside of your body with the help of potent plant extracts, vitamins, and minerals.
Therefore, as long as you follow the prescribed dosage and stick to it, it doesn't have any side effects and is completely safe for your body.
Adults should take 4 capsules approximately 20 minutes before your breakfast for best results. Directions should be followed on both workout and non-workout days.
There are tons of different supplements and testosterone boosters on the market, but TestoGen stands out from the crowd. The strongest part of TestoGen is the ultimate formula that helps you utilize every ingredient inside of this product.
Although it's not as powerful as TRT, there are no side effects since this is 100% natural product and it is way cheaper.
TestoGen is offering many other benefits such as:
100-day money-back guarantee
Free worldwide shipping
Testosterone boosting eBook (strength training guides, testosterone-boosting foods, tricks of the trade, etc.)
Multi-buy savings – 2+1 free, 3+2 free
If you are not in your 20s anymore, trying to keep up with regular exercising and a fairly healthy lifestyle, then you will love using TestoGen – it will make you act and feel like a youngster.
Oh boy, and be careful how you guide your renewed libido. Good sex life isn't a thing of the past anymore.
At the moment of writing this review, you can buy 1 box (one-month supply) for $59.99, 3 for $119.99, or 5 boxes for $179.99 – which is $36 per one-month worth of testosterone, muscle growth, energy, focus, and teenage sex drive. It sounds like a deal!
TestoGen The Natural Testosterone Booster With Amazing Results
Increase your muscle size, strength and stamina. Reverse your flagging libido and improve your performance. Powerful, proven, natural ingredients with no side effects. Just 4 capsules a day to increase your testosterone quickly and safely.