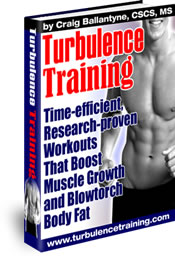 If you are someone who is in the market for a fat burning program that will allow you to work out in the comfort of your own home without having to spend hours upon hours in the gym, you may have heard of one particular product called Turbulence Training.
This program has been running for many years in the online market and has had a number of successful followers. Does that mean it'll work for you? Can you safely put your confidence in this program?
If you still aren't quite sure, read through our review of Turbulence Training so you can get a better idea of how this program stacks up against others you may be considering.
Craig Ballantyne is no stranger to the fitness industry. He holds a Master's degree in Exercise Science and has written for a wide array of popular health and fitness magazines including Oxygen, Men's Health and Women's Health to name just a few.
He's also worked with hundreds of thousands of people online, helping them through either personal training or else through his website newsletters.
He is also the creator of Turbulence Training. Craig isn't like your normal personal trainer however. One thing that sets him apart is the fact that he is determined to prove that traditional cardio is not the solution for maximizing fat loss results.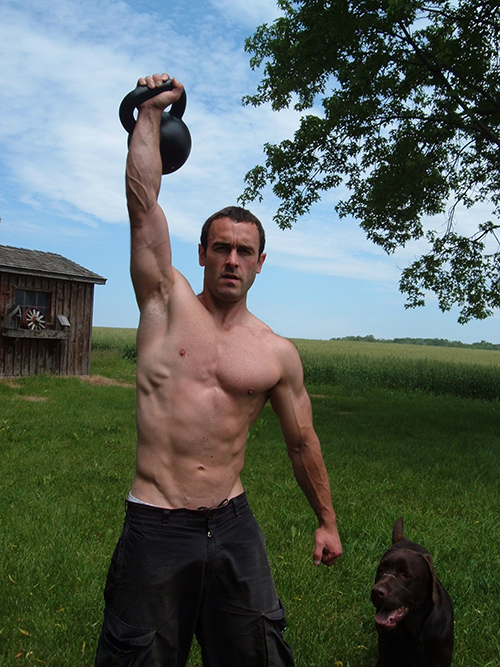 What Turbulence Training Is All About
To help him prove this to you, he's created his Turbulence Training protocol. This protocol does away with all that steady state cardio you may have been doing and shakes things up a bit, throwing your body a curve-ball.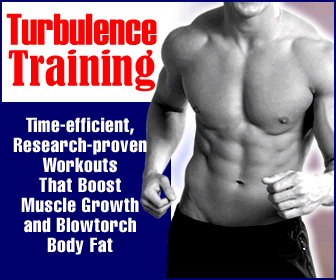 With Turbulence Training, you'll be performing a series of body-weight based exercises in a manner that creates 'metabolic turbulence' so to speak, revving your metabolism so that you can burn fat for hours even after the workout is completed.
Many of the exercises in his program also focus on a strength element, which also means that you'll experience excellent strength development while doing this plan as well. It's essentially designed to be a one-stop workout program for anyone looking to get fit and have fun while they do it.
The workouts in his program are designed to take just 90 minutes total per week, so unlike traditional training where you may be spending up to 6-7 hours per week in the gym, that is not the case here.
Who Should Consider This Program?
So, who is this program best suited for? The great thing is that Turbulence Training can work for just about anyone. It's designed for those who want a fast-paced workout that's short on time and can be done in the comfort of your own home.
But, if you prefer the gym environment, no problem. You can easily do these workouts in the gym as well.
Likewise, this program can be a great option for anyone who is hoping to boost their conditioning level because thanks to the intensity in which you work at, you should see amazing cardiovascular fitness improvements.
Lastly, it's also a great option for those who are simply looking to shake up their workout routine. If you're bored with the current plan you're doing and want a change of pace, Turbulence Training will deliver.
This program is constantly changing with new workout varieties so if there's one thing you won't be, is getting bored with it. This helps with exercise adherence as well, which is key to seeing long-term results.
Turbulence Training Workouts are the Key to Melting Away Stubborn Fat and Getting the Body of Your Dreams in just 90 Minutes Per Week!
– Craig Ballantyne
What You'll Receive When You Order Turbulence Training
When you order the Turbulence Training program, you'll get a number of helpful resources to get you on your way.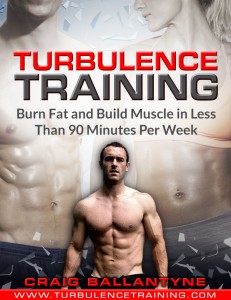 First, you'll get the complete training guide. This explains the concept behind the program further while also giving you a 12-week schedule so you know exactly what to be doing with each workout you perform in the months to come.
Next, you'll also get the Turbulence Training exercise guide. This guide goes over all the exercises that are included in the program so that there is no question in your mind how to perform them to see optimal results. This guide will be excellent for those who are beginners looking to get started and who need that additional guidance.
You'll also receive the Turbulence Training Nutrition plan as well. This nutrition plan goes over easy to use diet strategies that fit the life of a busy individual. They'll help ensure that you are fueling your body right for optimal nutrition to take place.
In addition to that, Craig also throws in his Turbulence Training 2.0 for Rapid Fat Loss videos, which are follow along videos that show you how to maximize your fat loss results.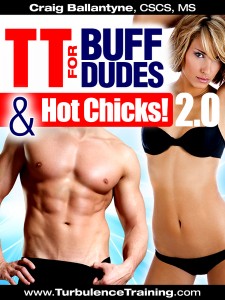 Additionally, you'll get a Thermo 30 Workout plan, which is going is a supercharged fat burning system that will really kick your fat loss results into high gear.
Finally, you'll get the 'Buff Dudes and Hot Chicks' program, which is a great program for those who are dreaming of attaining a fitness model body.
With all the workouts in this plan, you'll stay busy for months to come. All of this is provided for just $27.
Testimonials
Joel before and after

Joel Dropped 20 Pounds of Fat with Turbulence Training

"My body often felt like it was on fire for several hours after the workout was over, and it was almost like I could feel the fat melting off throughout the day."

"I burned off almost 20 lbs of fat while preserving my lean muscle. I reduced my waist measurement by almost 4 inches without losing much from my chest and shoulders. I reduced my body fat by 5%, and I am getting close to my overall goal of being below 10% body fat."
Jenae before and after

In 12 Weeks Jenae Is Back To Her High School Weight

"It was perfect for me because, as a busy mom to four and a part-time personal trainer, finding the time to workout had become so difficult that I couldn't be consistent with my workouts."

"Knowing that I could do my workout at home in half the time, only three days a week, got rid of all my excuses. I was able to get rid of "stubborn" fat with fewer workouts than when I was exercising 2 or more hours a day training for triathlons."

Lora before and after

Lora Drops 11 Pounds of Fat to Get Into Fitness Model Shape While Being a Super-Mom to 4 Kids

"I learned that I can fit in training, and I can get an intense workout in half the time I used to spend working out. I'm no longer tied to the treadmill for grueling sessions of steady state cardio…Blech!"

"I'm a busy, stay at home mom who home schools 4 kids. We have 7 horses, 4 cats, and a puppy… I turned 40 and was in the best shape of my entire life. I had six pack abs for the first time! It was pretty neat. Even my husband joined in this time and did some of the same workouts me. He is now in the best shape he's ever been in—looking GREAT!"

BJ before and after

BJ Loses 13.4 Pounds of Fat While Working Long Hours at His Law Firm

"My body often felt like it was on fire for several hours after the workout was over, and it was almost like I could feel the fat melting off throughout the day."

"Looking back, I only wish I had started TT much sooner! Before I started using TT, I had tried numerous supplements and diet pills and they all brought zero results. I wanted to have more energy for my wife and two kids, and to be a role model of health for them to look up to. This has vastly improved my family life, my work ethic, my relationships, and my career."

Molly before and after

Molly Overcomes Hormone Problem and Changes Her Life With Turbulence Training
"I have a hormone issue where I have high levels and it's hard for people to lose weight with this condition. In fact, most people with this condition are considered obese.""People every single day look at me, having known me, and want to know what I am doing in the gym. I literally have people coming up to me in the middle of my workouts and asking me to help them."

Darcy before and after

Darcy Loses 28 Pounds and Accomplishes More Than He Ever Dreamed Of

"The gains I made in the first two weeks were absolutely amazing and the compliments that I received from my wife didn't hurt either."

"I have 7 and 5-year old boys who are very active and love playing with their dad. At my heaviest, I weighed 263 pounds and was getting winded when playing with them. I needed a workout that wouldn't take up all my time. That is where Turbulence Training and Craig came to the rescue."

"My starting weight was 242 pounds and now I weigh 214 pounds and my waist size went from a 40 to a 36. I have all the energy I used to have eleven years ago and can go swimming, golfing and the boys favorite…….wrestling!!!"
Frequently Asked Questions
Why do the Turbulence Training workouts use Supersets?
By pairing exercises together in Supersets (where you perform two exercises back to back without rest), you are able to get more work done in less time.
That gives you two benefits. First, you get the workout done in half the time. And second, you get more results in less time, plus you can do more work. Supersets are the way to go, and that' why they are the cornerstone of the Turbulence Training workouts.
Can anyone use Turbulence Training?
Adult men and women of all ages have achieved success with Turbulence Training. We do recommend however, that you check with your doctor and have a full physical examination prior to starting a new exercise regimen.
Why should I only use each version of Turbulence Training for 4 weeks?
We want to keep the element of variety in the training program to achieve consistent fat loss. Nothing, except poor eating, halts fat loss like staying on a training program for too long. By switching it up on a frequent basis, you'll avoid fat loss plateaus and keep making gains in strength and fitness at the same time.
How much fat can I lose with Turbulence Training?
The short answer is, "a lot".
But to be more specific, you should be able to lose one pound of body fat each week (in addition to following sound fat loss nutritional practices). At the same time, you should expect to gain or maintain muscle.
Turbulence Training for Fat Loss gives you at least 16 weeks of fat-blasting workouts, so expect a two-digit fat loss by the time you get through the program.
Which Turbulence Training Workout should I use?
With Turbulence Training for Fat Loss, there are a lot of workouts to choose from. So why did I create so many fat burning programs?
Because you need to have variety in your workouts to keep on boosting your metabolism, and burning fat month after month. If you did the same workout program for 3 months straight, your results would screech to a halt after 5 or 6 weeks.
With the Turbulence Training fat loss program, you will be able to change your workouts every 4 weeks. Each time you do that, you'll kick-start your fat burning and your metabolism to a new level.
You must change your workout every 3-4 weeks.
Unfortunately, with so many Turbulence Training workouts, people often ask, "Which program should I start with?". So here are the fat burning guidelines you need to get the most out of Turbulence Training no matter what your fitness level…
1) The Best Program for a Total BEGINNER
Overweight, sedentary beginners should start with the Introductory Program in the main Turbulence Training for Fat Loss manual. If you haven't been doing any exercise, you must start there. No exceptions.
The body-weight exercises will prepare your muscles for all future workouts, and will prevent the overuse injuries people usually get when they start a high-volume cardio program (which is the worst thing an overweight person can do for weight loss).
2) The Best Program for an Experienced Lifter Who Has NOT Exercised
in the Last 4 Weeks
Please start with the Intermediate Workout from the main Turbulence Training for Fat Loss program.
BUT NOTE: Do only ONE SET per exercise in each workout in the first week.
This will prevent you from being excessively sore from the exercises, which can occur when you have been away from exercise
for so long.
3) The Best Program For ADVANCED Fitness & Fat Loss
I suggest you start with the "Original Turbulence Training Workout" from the main Turbulence Training for Fat Loss manual.
Work your way through each following three advanced workouts in the manual. Upon completion of the Turbulence Training for Fat Loss workouts from the main manual, you can move onto the bonus workouts in this order:
A) If you are a women that wants to put the final touches on a female physique, use the Turbulence Training for Women
workout.
B) If you are a man that wants to build muscle, use the TT for Muscle program.
C) If you want to keep burning fat, move to the DB-BW Fusion Workout.
D) Follow that with the 30-Day Advanced Fat Loss program.
E) And finally, finish with the Advanced Fusion Fat Loss 4-Week Program.
At any time you are traveling or want a break from the dumbell workouts, you can use the beginner, intermediate, or advanced
bodyweight program from the Original Bodyweight 4-Week TT workout.
What repetition range is best for fat loss?
Despite the common belief that high-reps are best for fat loss, research has shown that performing multiple sets of lower reps is more effective for burning calories and fat.
In the Turbulence Training workouts, you'll use 6-8 reps per set for most exercises, and this will give you the most "bang for your fat loss buck". Using a variety of repetitions trains the muscle through the full range of metabolism-boosting stimuli. If combined with proper nutrition, this approach offers the greatest opportunity for growth.
When is the best time to workout?
In general, there is no best time to workout. A guy that trains in the afternoon should get the same results as a guy that trains in the morning, all other things being equal (i.e. nutrition, workout intensity, etc.).
The two most important considerations for determining your workout time are that:
a) You are able to train with sufficient intensity
b) You are able to train consistently
I don't have a full hour to workout. Can I still use the program?
Absolutely. First off, even if you follow the full Turbulence Training workout plan, you'll be done in less than 45 minutes. And second, if you have less time than that, simply reduce the number of sets performed for each exercise. You'll still get the majority of the benefits by doing as little as one set of each exercise – and you'll get the workout done in even less time.
What is an e-book and why is Turbulence Training for Fat Loss only available as an e-book?
An e-book is a PDF file that is available for immediate download after your purchase. You will receive download instructions for the Turbulence Training e-book, as well as the bonus reports. You will be able to download them and print them within minutes of ordering.
Having immediate access to these files is a major benefit of e-book distribution. If you want to start your fat loss workouts within the next hour, you can do so simply by ordering your e-book and downloading the information.
In addition, it is much easier to provide customers with updates to their e-book. We will alert you when new bonuses or workouts are available.
I don't belong to a gym, and I don't want to go to a gym. What equipment do I need for Turbulence Training?
The Turbulence Training for Fat Loss workouts can be done at home with a simple home gym set-up that includes dumbbells, a bench, and a Stability Ball. A barbell can also be used for many exercises in place of dumbbells.
You do not need fancy machines or expensive gym memberships to succeed on the Turbulence Training for Fat Loss plan. In fact, you will also receive a bonus 4-week bodyweight training manual that will give you an advanced fat burning, muscle-building bodyweight-only workout when you order.
Pros:
Exercise database is given for those who need help with exercise form
Easy to follow program that can be done in the comfort of your own home
Short workout format – no more hours spent exercising
Nutritional advice is given so you can get the 'complete package'
Book provides sufficient information without overloading you with unnecessary details
The program is easy to put into action immediately
Cons:
Because this workout does not focus on lifting heavy weights, if your goal is maximum strength development, you'll want to be doing additional workouts. This said, you can certainly do those along with these to help keep you lean
No formal meal plan is included in this program, so if you need a done-for- you meal plan, you may need to purchase one to use as well.
Our Verdict
Our final thoughts of this program are that it is an excellent program for someone who wants to take their training up a notch and see better results.
It's ideal for those who are tired of the same old bland workouts and who need a change to not only get out of a plateau, but keep themselves interested in fitness as well.
Because the workouts can be done in the comfort of your own home, this makes them an ideal option for just about everyone. Young or old, fit or unfit, you can benefit from using the Turbulence Training program.
To sweeten up your purchase from us!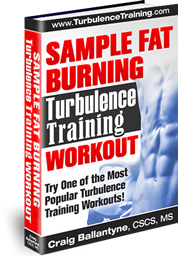 Email to us your purchase receipt to
info@meanmuscles.com
and we will personally send you this free eBook
'Sample Fat Burning Turbulence Training Workout'
as our token of appreciation! After you have gone through the Turbulence Training program than you should be ready for the intermediate level. This eBook contains the workout guidelines and plans to supercharge you further to the next level!