These are two of the minerals, often insufficient for many bodybuilders.
They are necessary for the normal course of most processes in the body, so the deficiency will slow or even stop those processes. Zinc regulates the production of testosterone so that zinc deficiency (in about 30% of athletes) leads to a decrease in blood testosterone levels.
ZMA In A Nutshell
The way zinc affects testosterone in the body is still not clear enough, but according to the most common belief, it accelerates the conversion of androstenedione to testosterone, reduces the rate of release of testosterone via the liver, and slows down liver testosterone processing in dihydrotestosterone.
As far as magnesium is concerned, it has been shown to have an anti-catabolic effect, reducing the level of cortisol ("stress" hormone) and, in some cases, an ergogenic effect.
What Happens When The Two Minerals (Zinc And Magnesium) Are Combined?
This produces a powerful nonsteroidal natural supplement, stimulating the release of anabolic hormones in the body – testosterone and insulin-like growth factor, which results in increased strength and reduction in recovery time, and reduces the risk of trauma.
The combination is specifically designed to increase endurance, healing and growth. With longer workouts, zinc deficiency reduces muscle strength and endurance, and magnesium deficiency reduces oxygen access to muscles. Taking extra quantities can increase your testosterone production by 30%.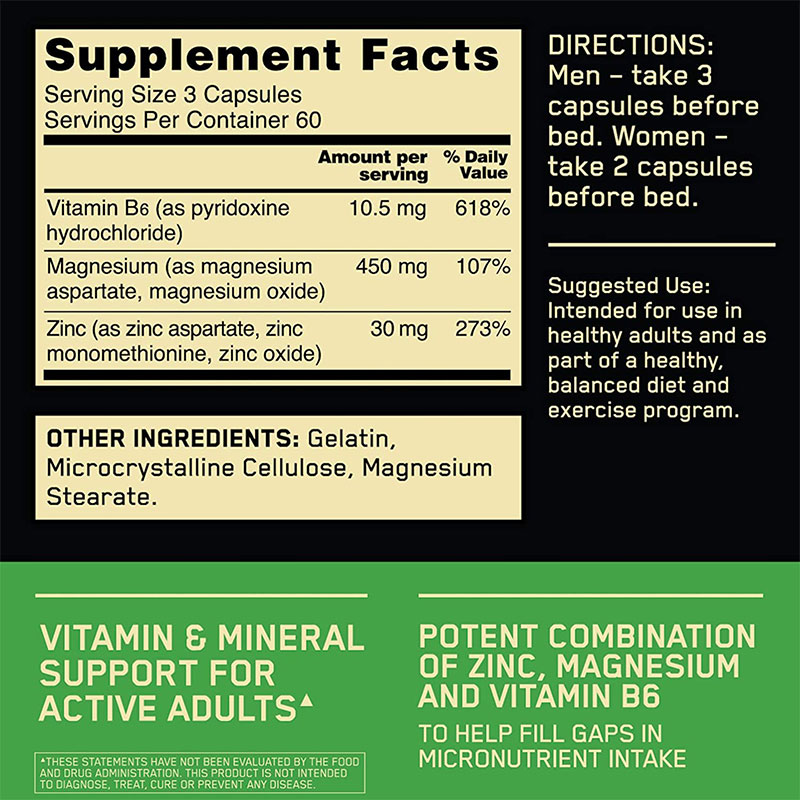 What Are Zinc And Magnesium Combined With To Achieve Optimal Effect?
The products of different companies may vary, but the main ones are covalently bound zinc / magnesium aspartate (usually minerals are associated with aspartic acid, which improves the transport of minerals and their useful absorption by the body).
Sometimes for even better absorption vitamin B6 – 10-11mg is added into the mix.
Some companies have separate combinations for men and women: men have zinc 30 mg and magnesium 450 mg for intake, while for women, the supplement contains 20 and 300 mg respectively.
There are also so-called daytime and night formulas – the first is added yohimbine for extra energy and bioparin to increase absorption. This option should be taken only during the day, as opposed to the night formula, in which instead of yohimbine there is G-aminobutyric acid and other ingredients affecting the depth of sleep.
When And In What Doses Should ZMA Be Taken?
For the night dose, the combination is taken 30 to 60 minutes before bedtime, and the living room is preferably 30 minutes after getting up, on an empty stomach.
According to experts, you should not exceed a total of 30 mg of zinc and 6-8 mg of magnesium per day per kilogram of weight, so follow the manufacturer's recommendations.
It is preferable to avoid consuming dairy products, as well as other foods or supplements rich in calcium, when taking zinc and magnesium.
MeanMuscles Recommendation: Optimum Nutrition ZMA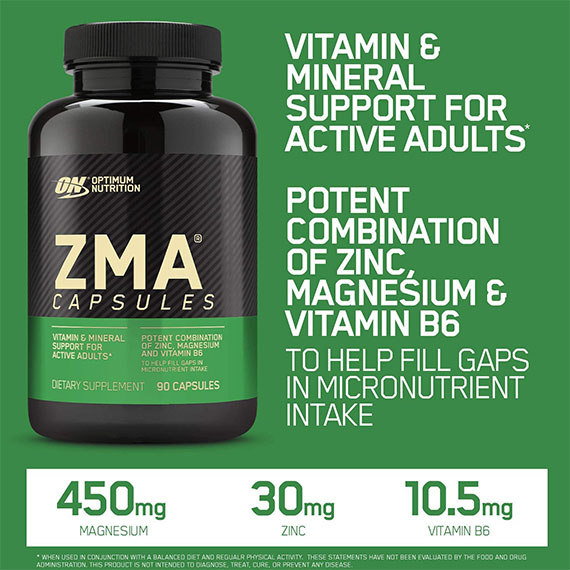 Optimum Nutrition [ZMA]
Optimum Nutrition ZMA Nighttime Muscle Recovery and sleep aid supplement, 180 Capsules
Related Products You Might Be Interested!