What is a compound workout?
It's mainly an exercise that feature multi-joint movements involving more than a single muscle group working together simultaneously. It's basically not an isolated workout where you target certain primary body parts like back, triceps, forearms and etc.
Compound workouts help to improve cardiovascular, strength and flexibility on the overall. By engaging multiple muscle groups, you are accumulating more volume for muscle groups and because of that you will be able to lift heavier loads. It helps you to encourage on hypertrophy, progressive overload, power and strength training.
You get the idea? Now there are so many combinations of compound workouts available. Here we will be featuring few of the best that you can follow and benefit!
The featured 5 best compound workouts
Barbell Squat
Deadlift
Military Press
Bent-Over Row
Bench Press
Barbell Squat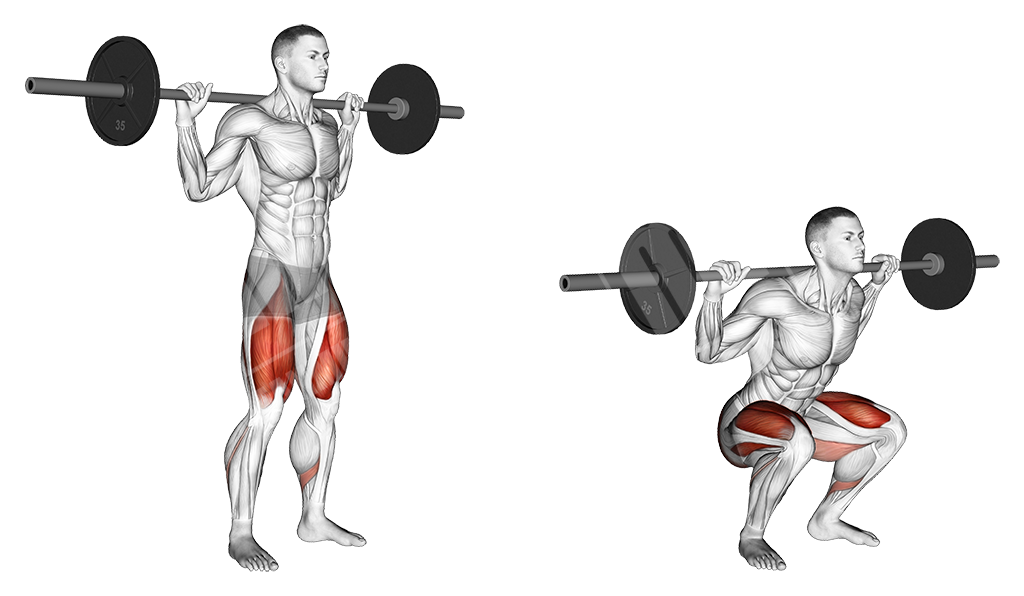 This workout basically hinges on a vertical move. Your quads will be the most used up muscle group. It's also a knee flexion movement.
Execution
Make sure the bar on the rack is below your shoulder level so that when you shift under the bar, it should sit comfortable on your shoulder and trap it with your shoulder blades
Place your hands with your palms facing the bar and placing them shoulder-width apart and make sure of a comfortable good grip on it
Unrack the barbell trapping it on your shoulder blades and walk backwards slowly to your starting position. Make sure your feet are a little wider than your shoulder width for better control and balance
Go low till your glutes are slightly below your knee level while squeezing your core muscles at the same time. Make sure you are breathing out
Go back up with a jerk. Make sure when you go back up to the starting position, not to lock your knee
Breathe in and repeat
Note
When you unrack the barbell, make sure it doesn't rest on your neck and also not on the top of your shoulders.
Deadlift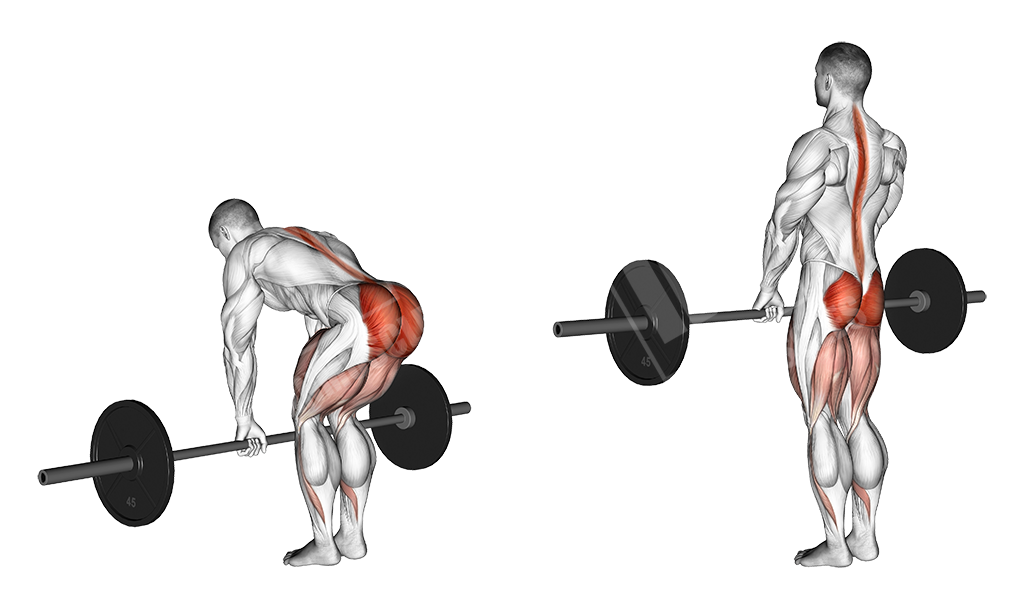 There are various types of deadlifts. There are hamstring oriented and glute-oriented ones. Here we will stick with the conventional deadlift which will work out your overall body muscle groups.
Execution
Ensure that your feet and your gripping hands to be shoulder-width apart and standing in front of the barbell. Also make sure that your feet are below the barbell
Make sure that your wrists, elbows and shoulders are all aligned to be in one straight line and your knees slightly bent. This will be your starting position
Engage your core muscles by squeezing them nice and tight while exhaling
Trap or squeeze your shoulders backwards and lift the barbell. Much of the pressure should come from your heels. Squeeze your glutes. Do not lock your knees and jerk backwards too much
Lower the bar back to your starting position in a slow and controlled movement. Keep your chins tucked in. When lowering down, make sure the bar is near to your shins and maintain that little gap
Reset and repeat
Note
It's really important to relieve your pressure and pain from your lower back while executing the deadlift. The most common issue faced by many doing a deadlift is getting a sore lower back. It's perfectly normal when you try it out for the first time, but if you keep getting this soreness, then you are doing something wrong. Just execute the steps exactly as illustrated above.
Military Press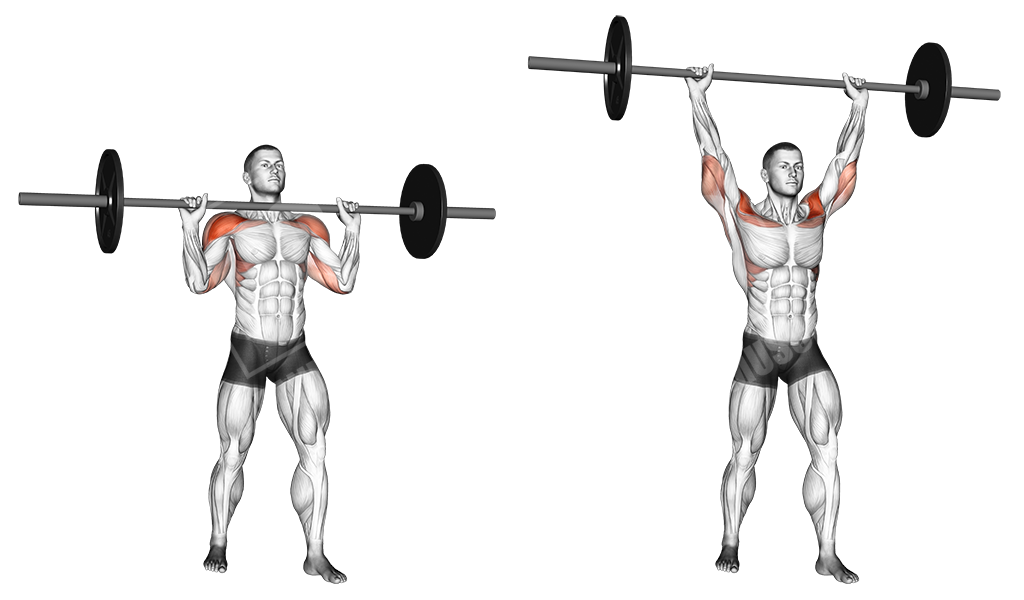 This is predominantly and upper body movement workout. This is the best exercise to target all 3 delts of your shoulder. The anterior, lateral and posterior. In layman terms, it's the front, middle and back part of your shoulders.
The starting point is similar to the barbell squat and the grip to be similar to the deadlift that is making sure your wrists and elbows are aligned.
Execution
Keep the grip shoulder-width apart
Unrack the bar and step backwards a few steps slowly to come to your starting position
Raise the bar over your head while exhaling
Lower the bar to almost your chin level. Do not go any lower
Repeat the exercise in a slow and controlled movement
Note
When lifting the barbell do not over arch your back. This will cause a lot of lower back injuries in the long run. You need to engage your core muscles and keep your glutes tucked in and squeezed so that nothing of your lower body is being engaged while executing the military press.
If you are a beginner, then use an empty bar to get your body used to the new movement.
Bent-Over Row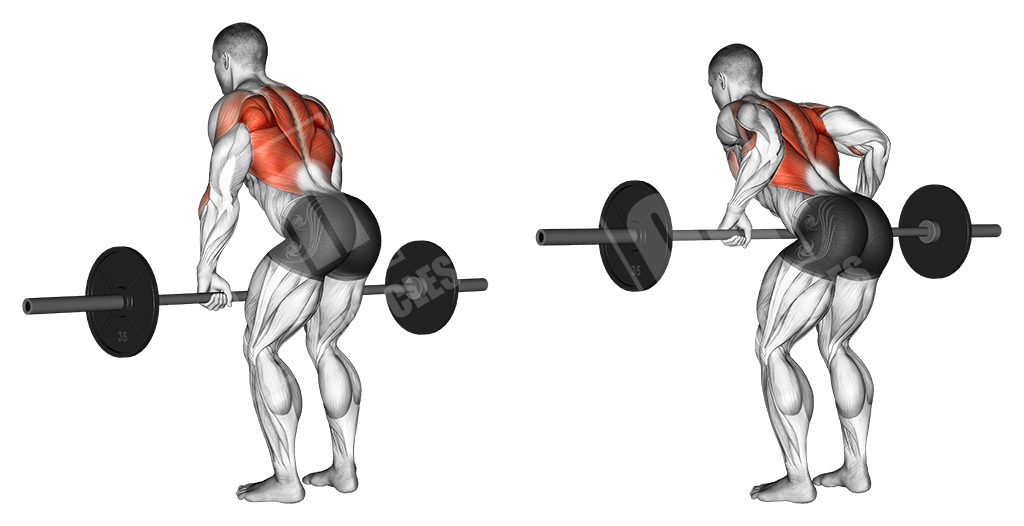 This workout is a horizontal movement. In fact, it's the king or queen of the back workout day. The hand placement and the way you grip plays a huge role in which particular muscle group you are targeting at your back.
Here we will focus on a neutral grip. The starting point is exactly the same as the deadlift but with a slight difference. This time in your grip, you are going to extend your thumbs out. Your thumbs actually flexes and contributes a lot to your forearms. So, by relieving your thumbs, much of the lifting pressure will fall on your back.
Execution
Bring the barbell up in standing position. Do not bend till you hit the 90-degree angle
Then slightly bent over in an upright position
Bring the weight up with your elbows without flaring out. Keep them tucked in as much as you can and as close to your body. The bar should hit around your hip or your belly button major
Bring the weight down to your knees and repeat
Bench Press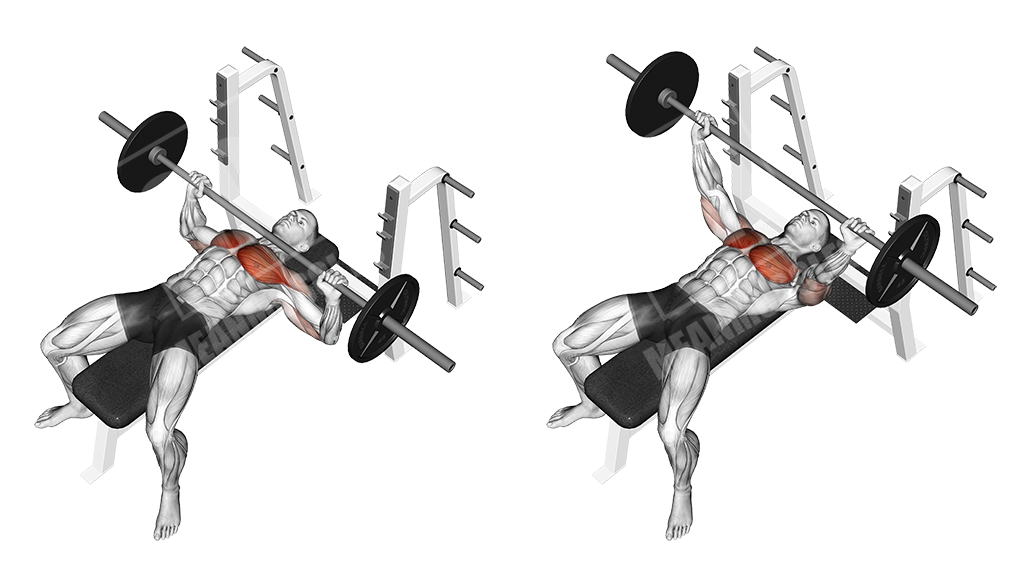 Arguably the king and queen of the upper body movement. It primarily targets your pectorals, deltoids and triceps. In this workout, we'll be doing the flat bench press.
Execution
Lay down on the bench and make sure your eyes are level with the bar above on the rack
Grip the bar similar to that of the deadlift with your thumbs rolling over the bar
Make sure that there is a slight and comfortable arch on your back. Your back should not completely rest flat on the bench
Make sure your feet are firmly placed wide on the ground for better control and support
Retract your shoulders and lift the barbell and align it somewhere near the middle portion of your chest
While breathing in, bring the weight down towards your chest with your chin tucked in
Breathe out when you power the weight up
Repeat and place back the bar on the rack
There you have it! Add these 5 great compound workouts to your weekly exercise regime and you will see a great difference in your body in terms of agility and strength! Make sure you stick to the safety protocols mentioned above to prevent any form of injuries occurring to your body.
If you are new to all these and would like to embark on a fitness journey, we would recommend going through our educational resources. Getting to know the 'Know How's' will always give you the edge over others. Start with the beginners' section.